Tenebrae gave me great descriptions to go with her submissions (click on the photos of her to see the full versions in a new window):

I saw on your site that Diana from Odor of Pears had submitted a few eyes and that gave me that bit of impetus to finally submit my eyes. We used to be mistaken for each other back in Misery for some reason.
Anyways, about my eye drawing...that's supposed to be pearly white on the top, but of course white doesn't show up so well on white. Liquid eyeliner is the best for drawing swirlies and stuff, especially the kind that comes with a long handle and a short brush. Physician's Formula makes a really cool haemetite-coloured liquid eyeliner (dark silvery grey). They also make black and white. There's a brand they carry at Long's drug store called, I think, Prestige, that also comes in a wide range of colours. I got a very nice metallic purple in that line. They all come with the easy-to-use handles, too, for superb control. I sound like an ad now. heh
Anyways, I have a few examples of some of my eye makeup styles in roughly chronological order.
The first one, well, I used to do it like that for a VERY long time - just basic black eyeliner in an 80's deathrock Cleopatra kinda style with black eyeshadow "blush" to hollow out my cheeks.
The second one was after I finally started experimenting with swirlies. The lipstick I'm wearing is a nice haemetite sort of colour.
Finally, we have my kitty eyes. I'm wearing two shades of metallic green eyeshadow with dark metallic green eye pencil next to my eyes and matching metallic green and metallic purple lipstick on for a scarab beetle shell effect. I've got black liquid eyeliner outlining the eyes with metallic purple liquid eyeliner accents on the swirlies. I have fun with the cat ears (made 'em myself!). =^_^=

A friend of mine has an online comic that she's finally put me into in catgirl form (she had me in as my evil overlord BF's pet white cat for a while). You can see her rendition of us at http://strangecandy.keenspace.com
Sk8ErHoE0o says:

it usually looks better if you have another color liquid line to trace around the outer parts of the lines

~von dreek
Cherry Bombastic sent these:





From Renn: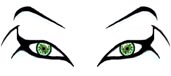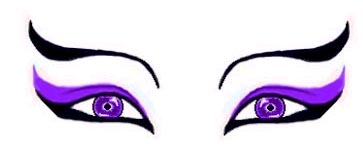 Sarai from Holland sent these four inventive designs:

I "design" little drawings etc. for my eyes asswel. But it takes other qualities to do it on the computer, if you know what I mean ;) It was a whole new experience for me but it worked out okay. Here are four designs, if there's a problem with the pictures or something, send me an email and I'll try something else.





Vicar Bride sent her "cross-eye" club makeup design: "it's best done using black eye-liner (pencil or liquid), and your favourite shade of red lipstick (keep it out of your eyes). i have also had success using silver eye-pencil for the cross, although it took a LOT of pencil."




[Main]
[Meet me]
[Postcards]
[Words]
[Dolls]
[Art]
[Craft]
[Guestbook]
[Links]
[Banner]