ashlleeh's eyes.

Mephi sent me two.

is a more everyday design which Im sure allmost everyone has used at some point.

The idea from this one came from a comic book heroine who I think was called jade (or something) who uses this design (and I have to say, it looks better on her than it does on me).

Dead Isabel wears this little number to school. I'm sure her principal loves it.
| | | |
| --- | --- | --- |
| | Etherial looked like this on New Years. And got to try to explain to some frat boy that he was straight even though he was wearing makeup... Ah, the trials of gothdom... | |
ShimmertMD sent me a plethora of wonderful little goodies

| | | |
| --- | --- | --- |
| | Apathea sent in this spooky little number, and this little lovely. | |
Melody gave me this oh so gothic addition with nifty crosses.


Lord Blacklight actually wore this particular make-up at the Cologne Gothic&Wave Meeting 1998...
The lovely Lady Hydra had this to say: Your site has been a great help for me with designing my eyes for halloween. So, I've decided to contribute my own design for you to put up. (which, by the way was the entire prupose of this, for both myself and others to be encouraged to experiment more because I was falling into a rut), and this to add:


kat gave me this lovely lovely. cat eye liquid liner, shadowed with purple shadow, and liquid liner/jewels added above the eyebrows for design.
juneberry gave me two wonderful additions:


maryeye - the crying blood effect is made with fake blood, and looks really good when there is no other eye makeup competing with it. think pure, like the virgin mary ; )


eye - this was my halloween makeup two years ago, before i really got into the goth scene. i was a cute little innocent junkie...
PaRaNOiD gave me this wonderful addition
Trench gave me this pretty little thing:

Reirei, or Kiwi gave me 4 wonderful eyes!


1. sort of a boring dotty look....


2. the imitation movie-star look...


3. a sorta death-type loop, but I'll say i like dots


4. rainbow thingy, sorta RainbowBrite-esque
Nate gave me the perky/raver goth sad clown eyes.


These little lovelies are from Agawarine of Agwarine's Fairy and Fishnet Land.
These are from the wonderful person who let me use her wonderful doll for Lydia Darkness

This little lovely is from Cyborg18, isn't it pretty?


And so is this

,
this

,
and this

Morpheus Five of Fifth Dream Today gave me these three lovely eyes.


is how my sister does hers alot.


is how i do mine sometimes and

is how i usually do 'em
Here are 4 from Emby Quinn (check out her dolls!)

IceChic gave me these lovelies.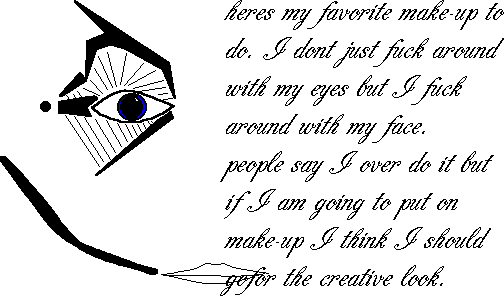 GodOfCandy likes to mangle his entire face...


[Main]
[Meet me]
[Postcards]
[Words]
[Dolls]
[Art]
[Craft]
[Guestbook]
[Links]
[Banner]