| | |
| --- | --- |
| | Morna sent these grey pretties. |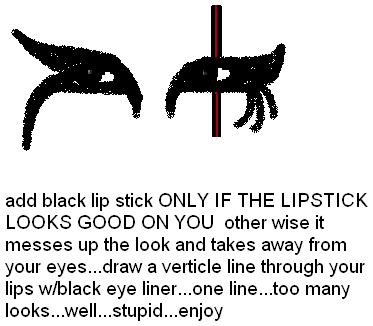 Deadelynghtsh8 has this to present to you.
| | | |
| --- | --- | --- |
| | I am Necrophageon. I noticed not many guys put up any ideas, so I figured I'd throw some male opinion in there to spice it up a little. I do it all with pencil eyeliner. I haven't really had a chance to play with liquid eyeliner yet, so I'm not sure how that goes. It's all pretty much straightforward though. | |

Sixela Blackthorn:

Spikey Eye~
Underline both lids with black eye pencil, underline the lid you'll not be putting the spikeys (or is it spikies?..i like spikeys better..) and drift the pencil off the eye, so you get a small 'egyptian' look line. For the eye WITH the spikes, just draw a spikey line, or triangles FROM the eye, and connect them near the bottom so they look like all one shape.

Twisty Eye~
Again, underline both lids with black eye pencil, and under the lid that will not be decorated with the twist, and do the little egyptian line thing. You basically doodle until you get the twist you like. I suppose they wont all come out looking like my drawing, different doodles and all.


Susan4365 gave me a simple elegant little number.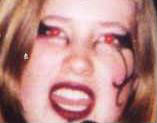 xxxGabriel sent me a picture of herself, as her graphics programs are being all wonky and uncooperative.
from maNda:

the first looks alot better if you do it a certin way. put a light green eyeshadow allthe way up to the brow. then get some kind of electric green eyeliner and around your eye. black liquid liner works bet for this dont ask me why but it just dose. line your eyes with a very thin black line all the way around a pullit out to the side thick and to a point. also put liner on the very iner of the bottom of your eye, your eye might water but i do it all the time it loox great.

for the second one. get either electric purple shadow or liner. line thickly your whole eye. take the balck liquid liner or pencil liquids alot better, and line your eye by bringing you lines to a point on both sides of your eyes and on certain eye make the swirl near your side spike. loox good on my fwiend kika should look good if you do soemthing to it too.

the third one is self expalnitory just use a patel solid looking shadow and bring out ur makeup with the liner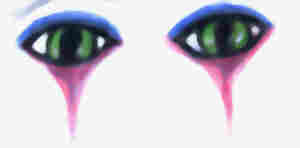 amanda gave me this:

I have a deck of Vampire Tarot cards that have similar eyes designs.It looks much better on.This is how to do it.
1 use navy/blue khol eyeliner to line the top lid.
2 use a red lip liner to draw the desisign looks best when the blue is blended at the corners.
3 now line the eys with a very thin line with black liquid or khol eyliner be sure the blue and red are not covered by the black.
Prosthet1ca says:

Here is my eye, I don't really have a name for it or anything, but I have instructions.

First, outline your eye in black eyeliner, not too thick, but noticable. (I use pencil, but whatever you want to use is fine.) Next, outline that in a PENCIL color that is a pinkish red. If you cannot find an eyeliner in the right color, use lip liner. It is best that you use pencil cause when it fades it looks even better. Then, bring the pinkish up, filling half of your lid, and going into a rounded cats eye look. Lastly, cover most of the pink with black eyeshadow, leaving a little bit around the edges, and all of the cats eye. I strongly suggest you use pencil, because it fades very nicely, and the pink becomes a reddish pink shadow on your lid.

From Jenie:

hey, my name is Jenie, and here are some eyes I designed. I have yet to wear them out of the house thus far, because not many people appreciate them... you know. Or any other of my styles. come to think of it, not many people appreciate me! ha! anyhoo... explanation... the thingie on the right eye is obviously a star... then the little lines coming out diagonally from the outer points of the eyes. on the outer edges of the eye, i like to add false eye lash PIECES. these nifty little things allow you to put a selected amount of false lashes anywhere you want, and i always do them on the outer bottom and top lashes. They can be found at places like Sally Beauty Supply, in my hometown. ((Garland ,TX)).

She also wanted to add that "goth" makeup looks painfully stupid when done sloppily or too frugally. Personally I suggest trying out something new when you have time to take it off and redo it if you decide you don't like it.



Variations on the same theme from Jadite Le Fae:

heavy liner, dark eyeshadow, and lots of liquid liner squiggles. the edited eye pic is an example of the squiggles on one eye, and the makeup on the other, but they would be combined, and used on both eyes.



[Main]
[Meet me]
[Postcards]
[Words]
[Dolls]
[Art]
[Craft]
[Guestbook]
[Links]
[Banner]