Autumn uses black eyeliner and curves the eye piece so it all just fits together.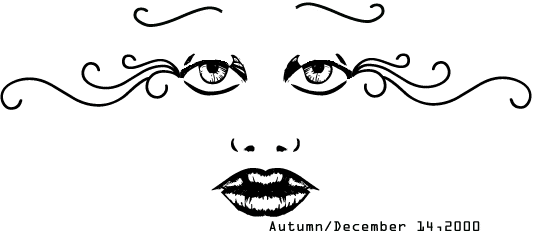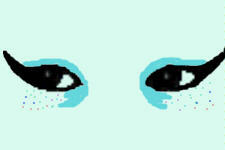 StarlaDeLocke really likes design and fashion, and does these a lot.






FreakyKitty makes these eyes.


Nic sent these cute little numbers to do with eyeliner and eye shadow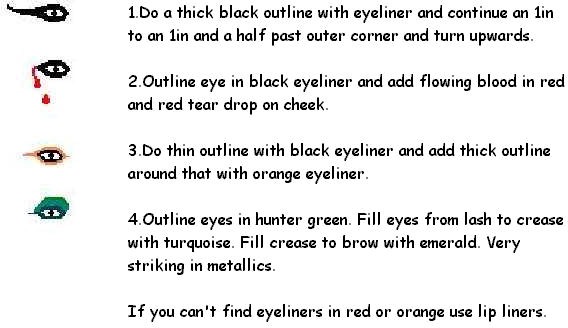 Sara did this with MS Paint.

Tiffy AKA "Bob the Mellifluous" gave me these two:
They are two different ideas, the left is my favorite one, very simple. Use lots of eyeliner to draw a curve up above the brow. Use silver to blend the black with the red and then add the pink. Don't forget to line the bottom with black and brush a little pink down there too. The second reminds me of Morpheus's mask (yes, the Sandman). This one takes a lot of skill, but looks really nice if you get it to work. Use black eyeliner to draw a curve around the browbone and then blend a navy around that., and fuscia around that. Then use the black liner to draw the bracket-like lines below the eye. Once dry, lightly brush fuscia around that. And because i love silver, that can line the brackets for some better blending.
Jimboi really goes all out:



This is a pattern I cut out (paint mask) on a vinyl plotter, weed it, and use it as a template for airbrush makeup. I have more area on the sides than most, because I shave my head.

limpbizkit girl sent me this lovely lovely thing.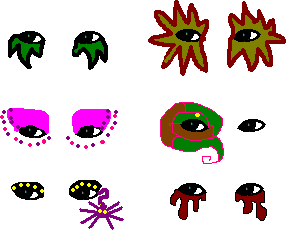 1. use black liquid liner to draw an outline, then use a coloured eyeliner or eyeshadow to fill it in. It looks effective, very.
2. Use red liquid liner to make an outline, then fill it in with gold eyeshadow. I call this the SUN.
3. For this one you use pink eyeshadow, blended all the way up to the brow, them use either stick on jewels or eye pencils to make the dots. 4. use eyeliner to draw the outline, then fill in with eyshadow.
5. Do the eyeshadow then stick on diamante strips. Use an eyeliner to make the spider.
6. Use liquid eyeliner to make outline, use red liquid to fill in.
Shocking Waves

ChRlStiNE16@aol.com loves blue around her eyes!
They Have blue shdow with mini eyes on the eyelid!!!!! I use blue shimmery eyeshadow then outline a eye then shadow it in!

Laurie gave me this.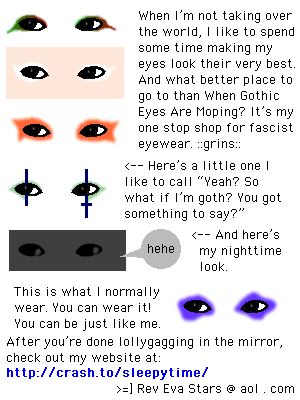 Lorna sent me this really cool little thing, with instructions since its kind of complex:
Here's how I did it: Use a pink eye shadow and apply all the way up to the brow. draw a thick line of red or dark pink lipliner underneath lower lashes and above upper lashes. Then add a thinner line of kohl pencil under the lower lashes and a thin line of electric blue liquid liner above the upper lashes, draw out at the ends to create cats eyes effect. For the right eye, use liquid liner to draw a spike coming down from the kohl line under the lower lashes, then continue it above the eye as if it is coming out the other side. only go to the top of the eyelid. Now this is the complicated bit: To get a longer spike, like mine, open your eye fully, and draw the spike down from the top so that it connects with the line on your eyelid. When you close your eye you will notice that the two lines do not quite meet, but they do when your eye is open. Finish off the two lines neatly so that they don't look silly when your eye is closed. For the left eye, draw long lashes out from the kohl line with liquid liner. Extend the last line and curve it downwards, draw the outline of the cross in liquid liner and fill in with kohl pencil, go around the outline again to neaten off the edges. Add glitter if you like.

Diana Febrez even sent instructions:
1.line the entire lower lid with black eyeliner, thin at the inner corner, thicker as you go out(pencil or liquid, but pencil is better to blend), and make a wing extending the liner. then line the outer half of the top lid. use a reddish or maroon lipliner on top of thinner corners of the eyes, then line above the black liner on top. after that, top the whole eyelid with red/maroon eyeshadow.use a lot of black mascara! i use this when i wear maroon or when i don't wan't people to bug me.

Talia sent me these little Egyptian pretties.


[Main]
[Meet me]
[Postcards]
[Words]
[Dolls]
[Art]
[Craft]
[Guestbook]
[Links]
[Banner]