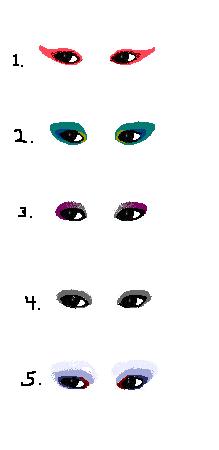 katie sent me this slew, with instructions:

It's tough to get the right look with paintbrush. Remember that when applied it will be softer looking and not so garish ;). Most of these look nice with colored mascaras along with black.

1. I do this with a pinkish red mica powder (L'oreal on-the-loose shimmering powder in "Five Alarm", to be exact) on my lid and blended under my lower lid, applied with an angled brush so it kind of swoops out under my brow bone. The liner was Streetwear "Blood" (which is a more subtle red, not too dark) in a smaller cat eye shape, with a red glitter face/body paint brushed over it.

2. I call this my peacock eyes- IRL it's all very shimmery and blended, and very pretty. I use a rich blue green irridescent mica powder on my lid (L'Oreal again), blended into my brow bone and under the outer two thirds of my lower lid. I line the inner third of my eye with metallic gold mica powder, blended slightly towards the center of my lid and under my lower lid. On the outer corner I use a shimmery dark blue shadow, again blending slightly towards the center of my lid and under my eye.

3. This one's pretty simple- med. grey shadow on the inner third/half of the eye, and really any color you want on the outer half, although I usually use metallic purples. I brush a little silver shadow over the gray and a little of the purple, then blend. Good with black liner in whatever shape you want (of course I usually wind up going with cat eyes).

4. This is my everyday eyeshadow, a sort of 40s glamour look (tho you can't tell from my drawing ;)- it's good when you're in a hurry because it's quick to do and goes with anything. It's gray shadow all over the lid, blended around the edges, with silver eyeshadow blended over the entire lid, but concentrated around the inner half. I vary the liner, but it's often simple black liner that gets thicker around the outer corner, which gives my eyes more of a feline shape. Of course you can do the liner however you like.

5. This one is in greyish blues, all kind of shimmery. First, line your eyes (including the inner rims) with a soft blue black pencil and smudge well. Use a faintly blueish white blended all over your lid and brow bone, then a med. blue blended on your lid, and a dark, navy blue as a liner. Line the inner corner with a soft red pencil (I use streetwear "blood", again)- it has a really striking effect against the blue.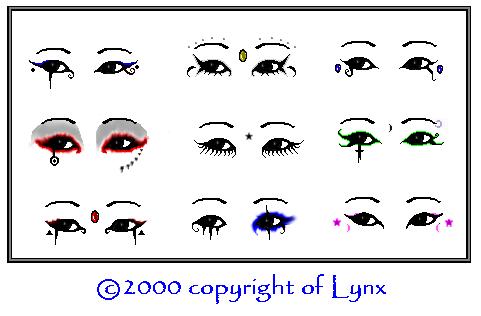 Allison sent me this very red design.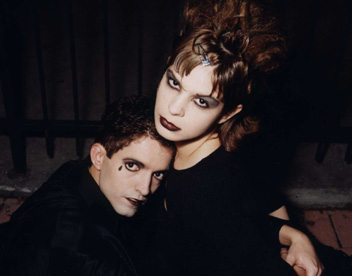 Stephanie Mazzeo, a makeup artist, sent me this lovely couple.

KurdtGrrl gave me this.
Cherry6843's favorite eyeliner, the clockwork.

MorbidKittie sent me this cute little thing.
ZellyCub:
The first is just using white pencil for the lines and any type of blue penciling to make the dots. Those shapes at the sides are diamonds. The second is the slightly dressed up version with tails and eye shadow,the third is what i did when i had too much time on my hands while near the pencils.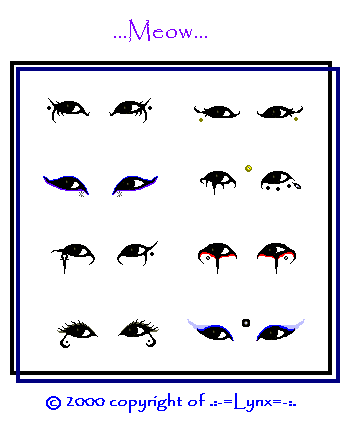 san.di is chinese, from singapore. We're really going global! She uses this on a regular basis (except without the 3 dots in the middle of her brows, though she would love to try that one day). both colors may be hard to find as a eyeliner, so she uses lipliner as a substitute for the red, and the usual eyeshadow pencil for the blue. usually, she'll add a little translucent powder, or powder of any color to the lids for a better effect and emphasis of the blue and red. it can be done in other colors too...

London does double Cleopatra eyes, like the Cleopatra label.

Adam has worn this a few times, and wanted to share.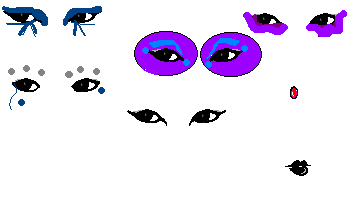 SUSAN FEUER sent some designs she uses often.


Lyn sent me a group of pretty little things.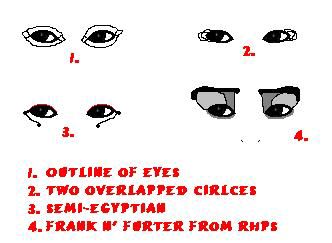 London usually wears #4 and #3 the most, but sometimes wears the first two if she needs to tone it down. Just a reminder, #4 looks great with dark red lipstick.
sykospark gave me this cute 'un. Go to her page! Is good!
tenebrose gave me a personal favourite for an everyday design... with lots of eyeliner (black, and crimson underneath) first circling the eyes (crimson just on bottom) and making two minor hooks downwards... then a discrete fading eyeshadow which is lighter on the middle...

Devanshi created this little thing for a drawing.



And then she created these sort of cartoon anime 80's looks, which she likes with glitter.
Bimb says this of her designs:

1) heavy creme khol pencil with white highlightling cream below the brow, blended with metallic black eyeshadow, spots of spirit gum with gold craft glitter pressed into it under the eyes....
2) same as one, but instead of the glitter, blue rhinestones or different sizes are glued round the left eye and onto the forehead.
3) black unblended liner with red flames drawn with a lip pencil, a red liquid liner would be better, but i don't have one...:'(
4)pink pearlecent eyeshadow cream applied all over the lid to the brow...them the same creme khol as (1) blended with the same eye shadow. then the lil plasic kiddies 'earing' stickers put at the corners.
5)khol pencil with liquid liner used for the twiddles...silver eyeshadow and glitter under the brow, blended with black eyeshadow
6)same as (1) but instead of the gold bits, silver glitter is applied sweeping towards the temples.
7)same as (5) but with more solid twiddles and a tiny bit of pink cream shadow blended in directly above the pupil, and a big pink glittery blob where the eyebrows would meet if they carried on.
8)same as (1) but with metallic purple lipstick used to surround the eye, then bleanded messily, but not...ish
9)heavily line the top of the eye with blach khol, then use red lip liner to thickly draw aroung the bottom, and be neat, coz it loos silly blended.
10) 1, but with micropore or masking tape, it is possible to mark off and exact rectangle, to paint in, set, peel off the tape, and that looks funky...

Karen has this to say:
Since you can't buy pink liquid liner (or at least not that i know of) its best to line your eyes with black liquid liner and then draw directly above them with a bright pink washable marker...prefferably the stamping kind... ones that show up really really good...i use LePlume... find them at craft stores. the little dots are just pink jewels, one larger one between the eyes, and two smaller ones on each outer corner.
Catherine sent me this elegant and simple little thing she wears when she gets "formal."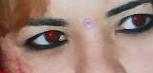 Sarah, who is not a goth but just likes eye makeup, submitted a few cute little things.


NormalPe0pleSuck gave me a cat eye type thing with glitter dots toward nose.


kerrie sent me a few cute little designs, which can be done in any color.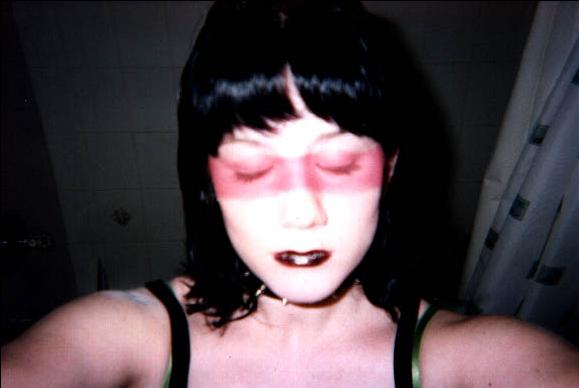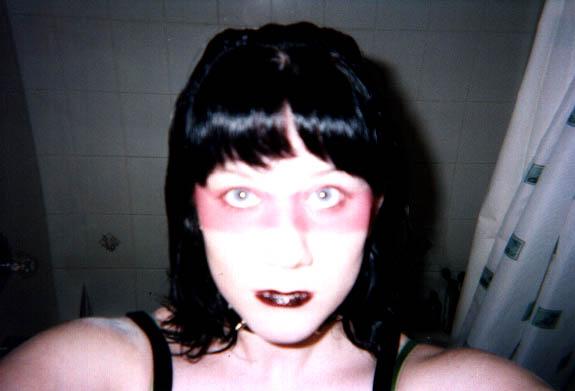 And kerrie's friend Erin sent me a pair of pics, with a design that reminds her of Manson. It reminds me of numerous 80's sci fi flicks...

Akufu gave me this pretty little achemical thing.

Alix: You draw a thick line of black liquid liner on the top, and a thinner line on the bottom. The you sweep a heavy layer of red shadow on the top line and make little dots with the black liquid liner. I scared the hell out of everyone.

Chelsea gave me this cute little pair.


[Main]
[Meet me]
[Postcards]
[Words]
[Dolls]
[Art]
[Craft]
[Guestbook]
[Links]
[Banner]