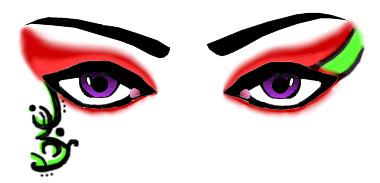 Well here are my eyes, sorry it isnt a very good drawing but i suck at paint....im only 13 and i've only recently become a goth...my parents forbid me to wear my make up arround but i do anywayz... Anyway thanxs... Razzy


I would like to submit these. I love your page and would like to say thank you for the great ideas. I'm from Kentucky and theres not many goths here. People tend to "freak" out when they see me and call me witch or devil's child but anyway I just wanted to say thank you again.
DreamersTear

First of all, congrats on your site, it's awesome, I've used several of the designs, and they've turned out well. I'm not sure if you have something like this on your site, but I thought I'd submit it anyway. I've found it can also look really effective with a little silver glitter, or stick on jewels at the end of the lines.

Keep up the good work.
-Sarah.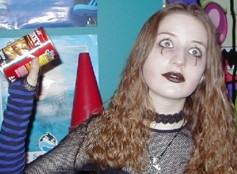 Ah, the memories. I live in a very "upper-class" area, meaning no one here dresses like me. Completely preppy yuppies, as I like to call them. So, I went to school with this make-up on one day. The vice principal immediately calls me up to his office and makes me remove it. And they say to express yourself. How can that be when you aren't even allowed to?

Please don't cut out the chunky soup can. It has a significant point. Very complicated to explain.

hurlothrumbojessa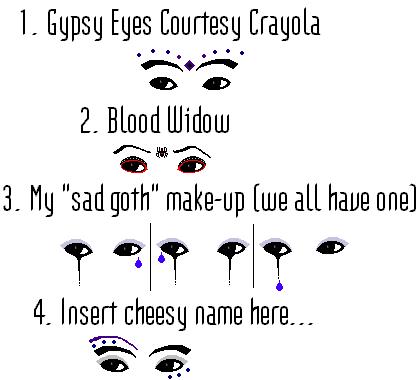 -Directions-
1. Gypsy Eyes Courtesy Crayola:
You'll need
Crayola Gillter Glue
A cheap little gem
spirit glue, crazy glue, liquid latex, etc.(optional)
pixie dust(optional)
eyeliner, eye shadow, mascara, etc.
a. Apply your eye liner, eye shadow, mascara, etc. however you want.
b. Choose a color of Crayola Glitter Glue you like best. DON'T squeeze very hard, only a small amount of pressure is needed. Be VERY CAREFUL not to get it in your eyes. Dab little dots about your eyebrow. You can also squeeze some glue onto a paper plate and take a cuticle stick, tooth pick, small paint brush, etc. to dab the dots on.
c. Rub a small amount of pixie dust were you plan on the putting the gem.
d. Choose the gem want to use, you can either apply this to your face with spirit glue, crazy glue, liquid latex, eyelash glue, etc. or you can use a small dab of the glitter glue on the back of the gem. The glitter glue does not last as long as the other mentioned products, but it works for a few hours.

2. Blood Widow
You'll need
Black eyeliner(liquid or pencil)
Red lip or eye liner(liquid or pencil)
Manic Panic Glamour Eyes in Starry Night
Eyelash adhesive
small spider gem
a.line your eyes with a thin layer of black liner, add a thicker layer just about that of red liner, add another small line of black again.
b. apply Glamour Strip
c. apply spider in desired spot.


3. My "sad goth" make-up
You'll need
Light colored eye shadow,
black eyeliner
small tear shaped gem
adhesive
mascara
q tips
water
hair spray
A frown
a. apply the light colored shadow to the crease of your eye.
b. apply a thick layer of black eyeliner(both over and under eye)
c. apply mascara
d. draw line down from center or eye, thicken, make gaps or bumps in line.
e. take wet q tip and roll over bottom of eye eyeliner and the line from the bottom of your eye. Redraw, rewet, etc.
f. dampen another q tip with hair spray and roll it over the design to ensure it sticks.
g. apply gen wherever you please.

4. Untitled
You'll need
Crayola Gillter Glue
eyeliner
silver eye shadow
a. apply silver eye shadow a little about the drease, tapered off at the out side of your eye.
b. apply eyeliner, sort of in cat style makeup.
c. under left eye dab three dots of crayola glitter glue, useing either a small brush, a toothpick, or gently squeezing the bottle.
d. above your right brow dab three similar dots of glitter glue.
e. above dots draw a line, about as long as your brow of glitter glue.

Now go out and scare the hell out of a complete stranger!

jagged_lil_loser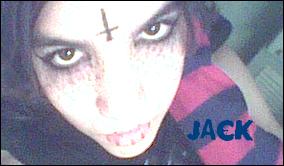 Ello, I can say I've been going to your page for a long time curiously checking out the ideas that people post on it for eye make-up. I've used some of them and found they're great, so I attached one of my own, and then some that I fooled around in ps with.
I actually think I got mine from the Ashanti singer when I saw her video on tv and thought her eyes were cool o.O but yeah, I decided to take my own little spin on it and introduce it to people who may not have seen it before.

--Insomniac Jack of Ouija Land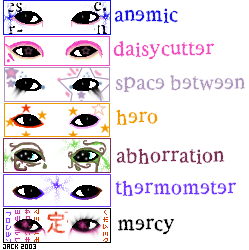 Instruction of computerized eyes:

1. Anemic Random black characters above and below outside corners of eye, signs of some sort. Add pink liner below eye, trail downward below inside corners a bit. Blue stars with fading tips on both outside corners of eye.

2. Daisycutter Starts out with a peach-like shade of pink lining entire eye, trails at a slant at both corners, one above and one below. Dark pink above the peach shade above eye. Cream-yellow below peach shade underneath eye. Two quick swipes below one of them adds accent.

3. Space Between Line bottom of eyes with black. Smear a bit with an opposing downward motion about 3/4ths to the outside of the eye. Periwinkle blue filled in circles on both corners of eyes. Three dots lined up with the smear and above the eye. Left: Small grayish purple star next to outside corner. Slightly larger star of the same color above. Add light pink centers to both. Right: Small grayish purple star below eye about 1/4th inward. Outline of huge star around entire eye. Pink accents at where the corners go in on the outline and at the tips of the star.

4. Hero One eye outlined with bright orangeish red color; opposing lined with soft pink. Random stars, some outlines, some filled, of bright orange-red and soft pink and yellow orange  surrounding eye.

5. Abhorration Swirls of dark red and bright green and dusty gold around eyes, one's colors a step brighter [more green than red]. Sort of a royal feel to it; no need to be symmetrical.



6. Thermometer You can't really see it, but the liner fades really finely from blood red at the outer tips to ice blue on the inside tips, thus giving the "hot to cold" look and feel. Blue star with faded tips between eyes.

7. Mercy Apply light magenta eyeshadow or liner under both eyes. Smear downward a few times on one. Smear upward all across top of same eye with black shadow or liner. Random red orange chinese symbols along side of face. Large symbol of same color between eyes. Opposing eye: Random different colored chinese symbols around eye in rows. Not covering entire eye.

Hope you enjoy em :D

i made this up myself, and i hope i didn't copy anyone's designs. i'm gonna wear my makeup like this on some of the last days of school..
hilary-satan's spawn.

Hey my name is jessica i'm 15 and i think your website is awsome! It has some really great idea's and was an insperation for me so i decided to send you a picture of my eye's so u can see what you've enspired.If you like you can put it on your web site with the others I won't mind and if not you still got to see what you've inspired.

from punkrockchick87:

Hi!!!
I like your site about gothic make-up!
I included my 'gothic eyes' in this e-mail, it looks great on both eyes but looks very special if you leave one eye plain without the dots!
I like it best when you use a black eyeliner pencil first and then make the dots with black liquid eyeliner (also cool if you use red of purple eyeshadow)!!!!
Bye , hope you like it!



Love you're web site. Lots of good ideas. I am sending you pics of a few of my own which are fairly cute. I also have a web site with some beauty tips for goth types @ http://www.angelfire.com/freak2/nerdbomber as well.
-Mary




[Main]
[Meet me]
[Postcards]
[Words]
[Dolls]
[Art]
[Craft]
[Guestbook]
[Links]
[Banner]